6.22.21 • By Oscar Design

No office? No problem. What we learned while working apart
The past year challenged us to collaborate in new ways and take better care of ourselves. We asked the team to reflect on the experience.
What was it like working in the health care space during a global health crisis?
Sabine Fryd, Associate Brand Designer: It was such a unique experience transitioning from a marketing agency to a mission-driven in-house company whose mission is so relevant and important right now. Needless to say, it's been an amazing learning experience. And incredibly inspiring!

Dan Arinello, Product Designer: It was simultaneously demanding and rewarding. In product, we often talk about creating value for end-users/members, but during the pandemic it was amplified. There was immediate and direct value created on a daily basis. Seeing that impact helped keep me sane.


We designed Durable Medical Equipment kits for members to use during virtual care visits. Reviewing brand assets remotely was a challenge we worked to overcome (with help from furry friends).
How have you prioritized your own health and stayed creative?

Sabine Fryd, Associate Brand Designer: I've really been trying to take some time to think about where my creative fulfillment comes from. I used to think it was more of a binary structure (only designing or creating something), but lately I've found that creative nourishment is so much more expansive. Sometimes it's design, sometimes it's a new way of thinking about something, sometimes it's as simple as internalizing something awesome around me. I guess it's just about being present and trying to really SEE everything.


Spending time outdoors and switching up our environments was key for our mental health.
Valentina España, Brand Copywriter: After being locked down in my small apartment in New Jersey for so long, I needed a change of scenery. When it was safer to travel (all masked up, of course!) I flew to El Paso, TX to spend some time with a bestie and his two adorable Chihuahuas. It was definitely a great decision for my mental health! Here in "Sun City," I'm getting my share of Vitamin D throwing pine cones for the dogs to chase around the backyard, and enjoying the best sunsets. Plus, being close to Ciudad Juarez and crossing over to eat the best Mexican food doesn't hurt either!

Dan Arinello, Product Designer: I started running a LOT more. With gyms closed, running outdoors provided a mental and physical break from the pandemic stress. I also learned some new skills like stock trading (who didn't?) and experimented with new photography projects.


Product Designer Dan Arinello found joy in the physical world through photography (top: Palm Springs, bottom: Brooklyn).
How has working from home changed your creative practice?
Topher Lorette, Senior Director of Brand: It's actually given me more time for heads down deep work, allowing me to turn off Slack for an hour here and there each week, and avoid getting tapped on the shoulder walking down the hallway in the office with a million requests.

Angela Liu, Senior Product Designer: Since we're glued to our screens the majority of the day, I've had to remind myself to get back on paper and pencil once in a while to sketch ideas out or work through problems.

Craig Damrauer, Creative Director: I have gained commute time to spend with my own creative pursuits.

Dani Balenson, Design Director: Working from home has forced me to see time differently. I value and safeguard my mornings more carefully, and try to use that time intentionally—whether it's for exercise, personal design work, Oscar work, or reading a book. Otherwise, everything blends together and I lose myself. Previously, commutes and working from an office helped separate time more clearly.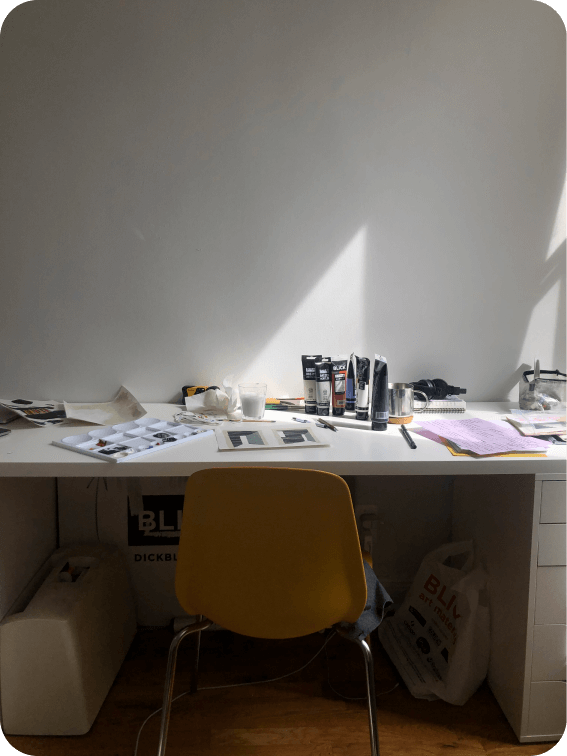 Painting in the mornings helped Design Director Dani Balenson feel creatively energized.


Working from home can be lonely. How have you stayed connected to your teammates?

Sabine Fryd, Associate Brand Designer: Google Meet! A lot of 1:1s, especially when I first started at Oscar (I encourage everyone to throw some 1:1s with people outside of your immediate team). Meeting up with people who live near me for coffee, happy hours, or even walks also made me feel so much more connected.

Libby Denault, Brand Operations Manager: Spring Fridays have been a saving grace over the last 3 months! Being able to see coworkers in person for drinks or in person hangs has helped balance the remote world.


The Brand Team bonded regularly over fun games like Brand Bingo, created by Brand Operations Manager Libby Denault.

What's energizing you right now?
Dan Arinello, Product Designer:
The light at the end of the tunnel. We're starting to return to normal with socializing, traveling, etc. I'm actually excited to return to the office.
Talia Siegel, Product Designer:
I just moved into a new apartment, so buying new furniture and decorating a new space has been fun! I'm also excited that the world is slowly starting to open back up again.
Jon Wilson, Senior Product Designer:
Music feels like a source of joy that I can control. I've also started sharing what I'm currently listening to in my Slack status. It's initiated fun and spontaneous conversations about music that often broaden to reconnecting about life in general.
Playlist by Senior Product Designer Jon Wilson.


What excites you about the future of flexible work? What stresses you out?
Sydney Choi, Product Designer:
Even if it's not consistently 5 days a week or all my teammates, I'm just super excited to see people again in the flesh! One thing I'm mindful of is hoping teams are set up so that everyone feels equally present and can contribute, even when 90% of folks on a team are in-office and 10% are permanently remote. I get a little stressed thinking we might let that 10% down a little!
Dan Arinello, Product Designer:
Having the flexibility as an accepted norm. Commuting in NYC can be a nightmare so I like having the option to remove that on certain days. Overall, I like being in the office to create/foster working relationships, so I'll spend more time in the office than at home. Maybe that will change when it gets cold, ha.


Sabine Fryd, Associate Brand Designer:
It's actually amazing to think about a working culture where we don't have to choose between living and working. I think we live in a society where productivity looks different for everyone, and I think the future of work really lends itself to people being able to figure out how they can be their best/most efficient selves—which is pretty cool!