6.22.21 • By Talia Siegel
Leveraging user testing to simplify payments

Each Open Enrollment (OE), the time of year when people sign up for health insurance, comes with a series of exciting new product launches for Oscar and a new set of challenges.

My team focuses on the insurance broker experience and, this past year, among our biggest launches was a newly designed broker payment page.



Why invest time, energy and resources to a broker payment update?
Brokers have become increasingly important to Oscar's business. By identifying this critical user base for Oscar, we knew we had room to improve in order to better meet our brokers' expectations for payments and effectuations.



Our system was outdated
We first offered broker payments last year through PayNow, a payment page that accepted payment immediately upon enrollment, a more seamless and increasingly industry-standard broker experience. But it had its problems; PayNow's limited feature set—no AutoPay enrollment, manual entry of demographic details—failed to meet broker needs and was at odds with Oscar's reputation as a tech-savvy carrier.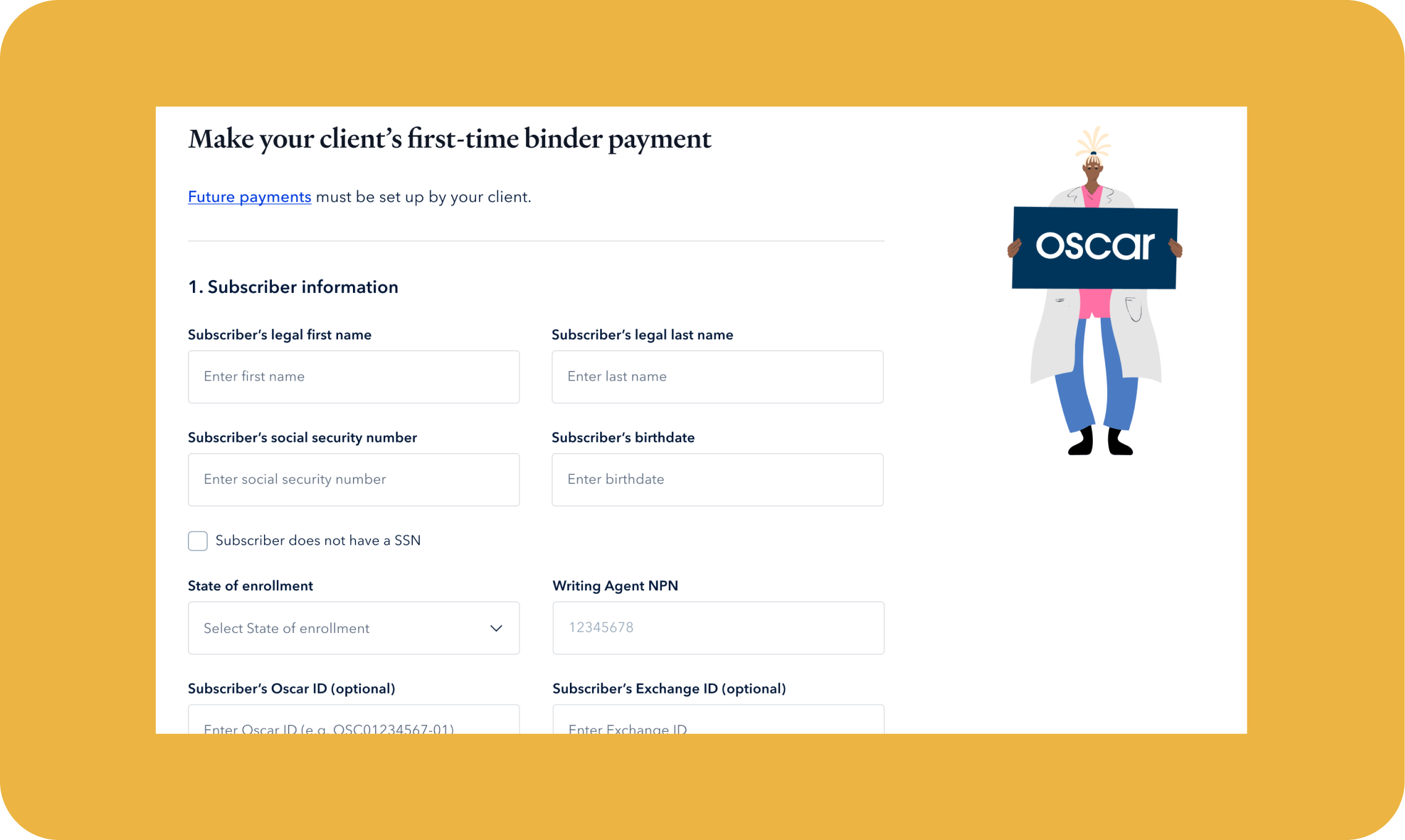 PayNow: a lot of empty text fields.
The payment page also had low discoverability. Brokers making post-enrollment payments either bookmarked the page or had to click through several pages to find it. Feature gaps led to user error—such as typos in the dozens of text fields—which increased UX friction and Insurance Ops' manual intervention in reconciling payments to enrollments.
"One broker even exclaimed, 'This is a breeze. How beautiful is that?'"
Putting two new ideas to the test
As I began thinking about design directions, I decided to create two versions, planning to test both with Oscar brokers.

Version A would be more in line with what had been designed for logged in members and their Care Teams. This version was reliant on modals, both for entering information and viewing a payment confirmation. But I wondered whether the modals would slow down brokers who were making payments for dozens of members at a time.
Version A


Version B offered a more guided experience, with everything exposed, rather than hidden behind a modal. It had its own printable confirmation page, which had been a heavily requested broker feature. To offer pre-filled information (and to avoid the reconciliation issues), my product manager and I decided this would be a post-enrollment feature only.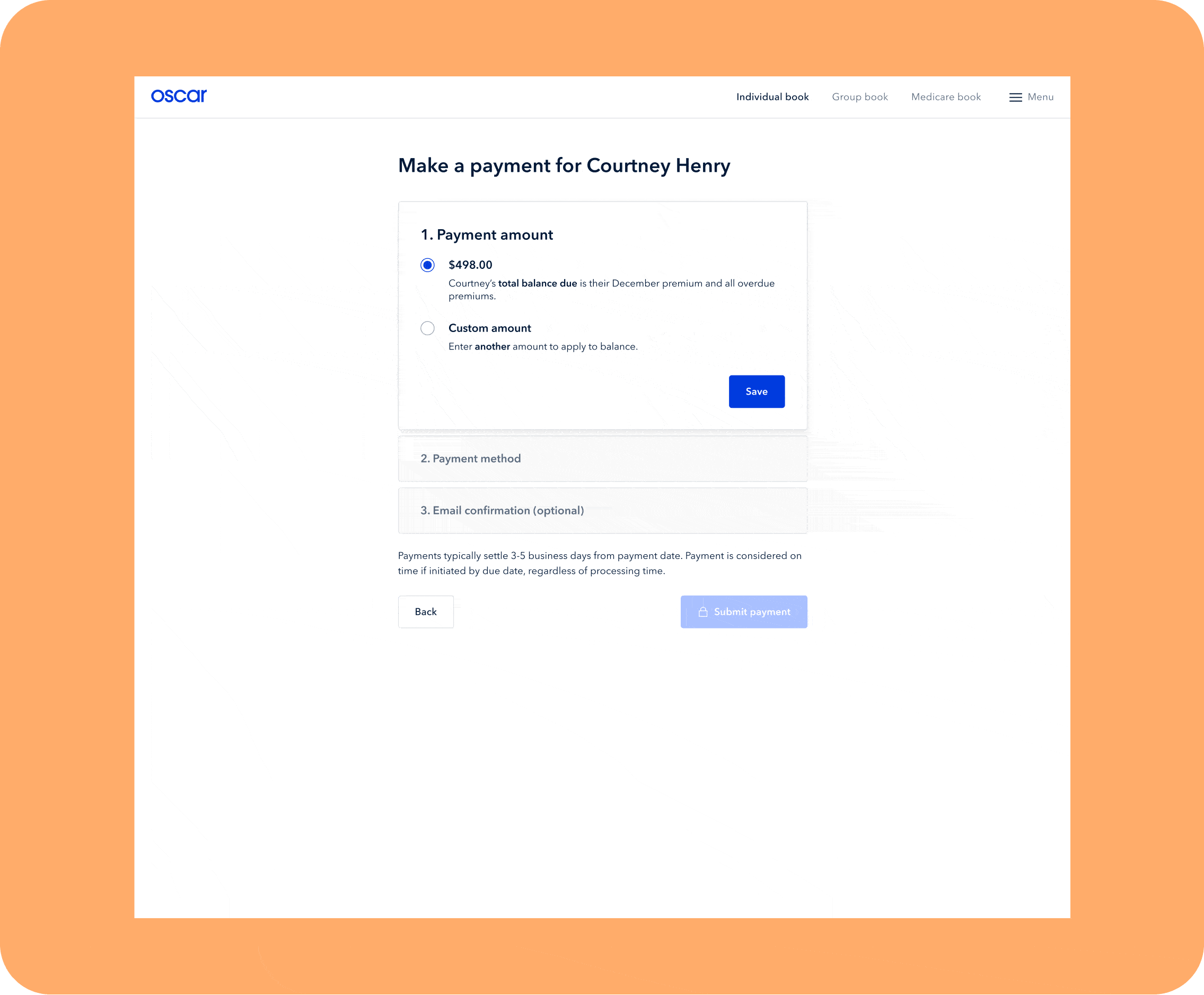 Version B



The brokers spoke. I listened.
During the user tests, I met with brokers from California, Florida, or Texas—all of whom had made payments on behalf of their Oscar clients within the last 12 months.

The feedback was both expected and surprising: brokers didn't always know what "Effectuated" or "Uneffectuated" meant; they often referred to this as "Paid" or "Unpaid" binder, which indicated that some of the statuses we used in the broker portal needed an update.

They were thrilled with the AutoPay addition, and how we surfaced a "Make a Payment" button within each row of their book of business to make it easier to find. Across the board, they preferred the ease of Version B and its lack of modals, with one broker even exclaiming, "This is a breeze. How beautiful is that?"


New statuses and "Make a payment" buttons in the broker portal.




The update paid off—literally

We've been thrilled with the positive response to the new payment page. So far, more than 91,000 payments have been made through the portal. (We've also seen a reduction of calls to Broker Support about AutoPay.)

The qualitative feedback has been positive, too: one of our brokers told us that the update was "simple, easy, and exactly what we needed."

Although we're pleased with the enthusiastic response, it's a first step. We've only begun to scratch the surface. As Oscar continues to grow, we're excited not just about making health insurance easy, but making payments easier, too.


---

Thanks to Cat Robinson and Jenna Schmidt for the edits. Major props to the entire Broker Experience pod (especially Alon Zouaretz) for the hard work in getting this launched.